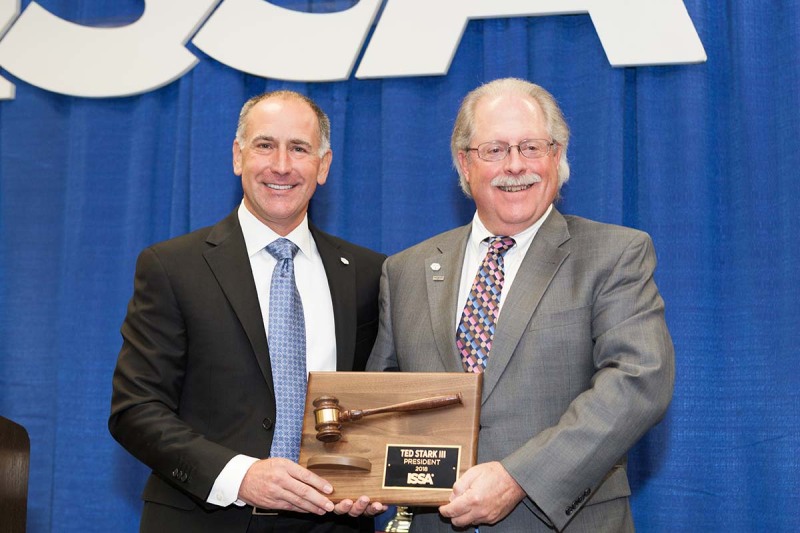 During this year's
ISSA/INTERCLEAN® North American trade show
Dalco's president, Ted Stark III, was introduced as the
new ISSA president
. Dalco Enterprises has been an active member of ISSA for over 50 years and we are proud that our president is able to take a lead role within this innovative organization. This position consists of a one year term and Stark has the goal to continue to grow the ISSA organization and to enhance the resources they provide the building maintenance industry.
We interviewed Stark about his experience in the building maintenance industry and what he thinks the future can hold for ISSA and its members. He discussed the value of being an
ISSA member
and how ISSA is a unifying organization that can help support our industry.
"ISSA's goal is to bring together the whole industry, everyone from manufacturers, to distributors and end users. By utilizing them as a resource we all can work together to pull each other up and have a network of like-minded and similar-goaled businesses. These connections reach nationwide and even globally for a more harmonized industry.

By utilizing ISSA every business can be on the cutting edge of our industry and can bring more valuable resources to our customers. With them we will build a stronger industry. ISSA helps promote the value of the industry and provides the world with the knowledge of the value of clean."
When asked about why he finds working in this industry rewarding Stark told us it's the people that make the building maintenance industry great. He also talked about
the value
that the cleaning industry brings to businesses every day.
"The people in the industry are good, hardworking and wholesome. From people at Dalco, to the manufacturer representatives we work with, to other professionals in the industry and the customers we serve every day.

Also, the industry itself is very important and rewarding. Sharing the story that cleaning is not just an expense, it's something worth investing in can have great impact within a business. Cleaning is an important aspect of every business to keep employees and guests satisfied, healthy and safe. The people we work with on a daily basis understand that - they're in the industry, they work it every day. Being gable to educate others within their companies and help them gain the support they need to succeed is rewarding."
In an interview with
Maintenance Sales News Magazine
, Stark talks about his background with the ISSA organization and what this next year brings as president of ISSA. When asked about what made him decide to seek the president's post he mentions three things.
"My decision to seek the president's post involves multiple factors, but three things stand out. Firstly, I owe much of my career development to ISSA, so giving back is part of my motivation. Secondly, I have had the good fortune and pleasure to observe and work with some great ISSA presidents. Several of whom I consider mentors and friends. Their example and encouragement gave me the desire and confidence to take on this role. Thirdly, the people. Every year, one third of the ISSA board changes. Over the six previous ISSA boards on which I have served, I have always been impressed with the amazing, smart, helpful and caring people who become part of the ISSA board. We are fortunate to have such great people in our industry and our association. I enjoy working with this group."
We are looking forward to this next year to see what new ideas and innovation will come from everyone involved in the ISSA group.
"I'm excited to have the opportunity to serve the ISSA community. I've been fortunate to be apart of ISSA and have gained great experience being on the board. I'm looking forward to helping grow ISSA and to continue to expand its value to members. Doing my part to support our industry and to help all succeed."

-Ted Stark III, ISSA President